Dr. Marcel Frailich Kaplun, murdered by Hamas terrorists on her kibbutz, was a passionate educator and a beloved figure at the Weizmann Institute of Science
Everyone Knew It When Marcel Entered a Room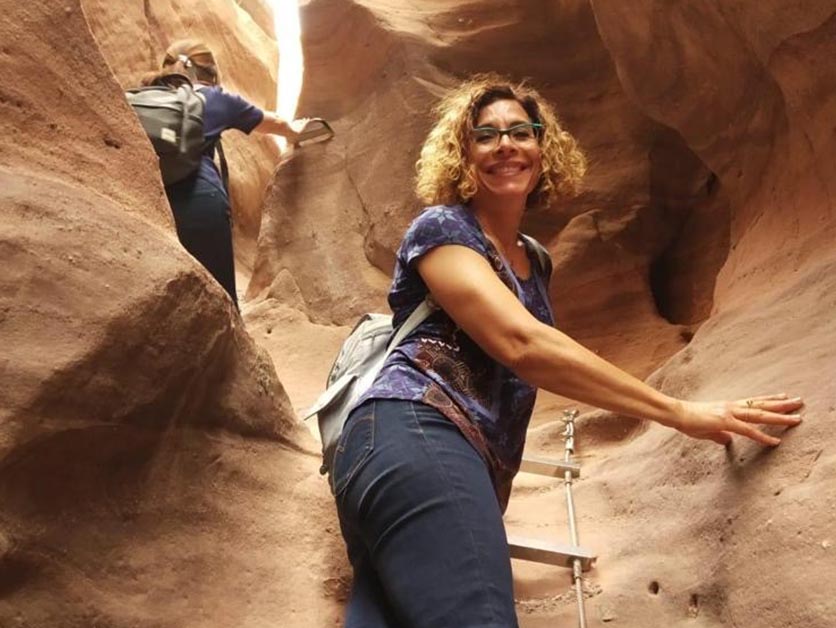 "Marceloosh, how are you?" Dr. Zahava Scherz texted her Weizmann Institute of Science colleague and friend, Dr. Marcel Frailich Kaplun, at 7:55 a.m. on October 7. An unusually intense barrage of missiles had been fired on Kibbutz Be'eri, where Marcel had lived for the past 40 years.
Marcel texted back one desperate line after another: The fright of our lives!!! / We are closed up in our safe rooms. / Terrorists have infiltrated Be'eri. / There's shooting near our house.
The last message to Scherz came at 8:35. It was a scream emoji.
Some two days later, a relative identified Marcel and her husband, Dror Kaplun, in a Hamas video. They were being escorted by terrorists together with another kibbutz couple, their neighbors. Assuming Marcel had been abducted to Gaza, her family members prayed she would survive the ordeal.
Ten days after the October 7 massacre came the appalling news. Marcel had been murdered, one of more than a hundred casualties incurred in the attack on the kibbutz, and one of more than 1,400 Israelis killed that day. As of this writing, Dror is still missing.
Raising generations of science teachers
Frailich Kaplun immigrated to Israel from Morocco at the age of three, the 13th of the family's 14 children. After serving in the Israel Defense Forces as a teacher-soldier, she earned bachelor's and master's degrees in chemistry from Ben-Gurion University of the Negev and taught high school chemistry.
Frailich Kaplun was a beloved and admired teacher for many years. In the late 1990s, she met Dr. Miri Kesner, then a researcher in Weizmann's Science Teaching Department. Kesner invited Frailich Kaplun to become involved in Weizmann's projects in schools. "Marcel was the sort of person everyone loves working with – smart, dedicated, the kind who energizes others. We always sought out people like that," Kesner explains.
""Marcel was all drama. She was modest but spoke with emotion and authority, adding hand gestures to her explanations"
When Frailich Kaplun later enrolled in PhD studies at Weizmann, she picked an area that suited her enterprising personality. Her doctoral research, under the guidance of Kesner and Prof. Avi Hofstein, focused on enabling 10th grade students to learn key chemistry concepts by means of interactive web-based tools – a highly innovative idea at the time. After earning her PhD in 2007, she continued to work in the Science Teaching Department and for a short while, at the Davidson Institute of Science Education. "She engaged in all aspects of science teaching – as a high-school teacher, researcher, learning-tools developer and a teacher of teachers – which takes a variety of skills rarely combined in one person," Hofstein said.
"I was delighted that Marcel agreed to take part in our chemistry teaching projects," says Kesner, elaborating that these included the creation of a website showcasing chemistry in the service of humankind and the establishment of a national student competition titled We Have Chemistry. In these and other projects, Frailich Kaplun was passionate about demonstrating – to teachers and students – chemistry's relevance to industry and to our day-to-day lives, from cooking processes to industrial drug manufacture.
Also passionate about teacher training, Frailich Kaplun was a senior member of the Weizmann team that established Professional Learning Communities of science and technology teachers in middle schools, and she also served as head of the Department of Science Teaching at Kaye Academic College of Education, a teacher training institution in Beersheba. Raising generations of science teachers, she was particularly active in promoting science education in the Bedouin community.
During her last 15 years at Weizmann, Frailich Kaplun took part in developing science and technology textbooks and interactive online materials for middle schools. She created hundreds of activities to make science relevant and interesting, working on a variety of projects, among them the chapters of New Matmon that deal with materials science, and later PeTeL, or Personalized Teaching and Learning. She also coauthored scientific papers and book chapters, the latest a chapter on web-based learning for Digital Learning and Teaching in Chemistry, a volume published by the Royal Society of Chemistry in the UK in September 2023.
"Some people have good ideas but don't know how to make them work. Marcel was great at both coming up with ideas and implementing them with perfection, from A to Z," says Dr. Yael Shwartz, Marcel's friend, colleague and a project leader at Weizmann.
A small woman with a huge presence
"Marcel was all drama," Shwartz says. "She was modest but spoke with emotion and authority, adding hand gestures to her explanations." Shwartz recalls that once, during the coronavirus pandemic, a new department member began working with Frailich Kaplun online. He later admitted that he was so impressed and even intimidated by her that he was amazed to discover how petite she was in person. "She was a small woman with a huge presence," Shwartz says.
Everyone knew it when Marcel entered a room. "You couldn't miss her. There would immediately be laughter and lively conversation," adds Scherz, who headed several Weizmann projects in which Marcel took part over the past decade and a half.
""She engaged in all aspects of science teaching – as a high-school teacher, researcher, learning-tools developer and a teacher of teachers – which takes a variety of skills rarely combined in one person"
Marcel's penchant for drama helped her give captivating lectures, but when coupled with her singing and dancing talent, it could translate into real theater. Be'eri members never forgot her appearance in the role of a "kibbutz-style" Eliza Doolittle in a local adaptation of My Fair Lady, staged during the celebrations of Be'eri's 40th anniversary in the 1980s.
Marcel was planning to retire at the end of October, but at age 64 she had no interest in quitting science teaching. Rather, she intended to launch a series of talks and activities on an entirely new topic that fascinated her – the Rambam's teachings on healthy diet and lifestyle, and how his medieval wisdom meshes with modern science.
In her last project at Weizmann, Frailich Kaplun was busy preparing a seminar in honor of Dr. Zahava Scherz's 40 years at the institute. It was supposed to take place on October 17. Instead, a memorial service for Marcel was held at Weizmann.
Speaking on behalf of the family were Mor Strikovski and Ziv Frailich, two of Marcel's children. On the morning of October 7, Ziv and his girlfriend had locked themselves in the safe room of Ziv's apartment at Be'eri, near the fence of the kibbutz. They narrowly escaped the massacre: Terrorists knocked on their door, then walked on without trying to break in.
"I mourn over a woman who on Saturday morning – while herself in the midst of hell – still texted me to ask about my son, who'd been called up to the army. I weep for your radiant smile that has been extinguished," Shwartz said at the memorial ceremony. "We so hoped it would end differently. . . Rest in peace, dear friend."