Meet the class of 2023 – they join more than 7,500 alumni who earned their PhD and MSc degrees from the Feinberg Graduate School since it was established 65 years ago
319 Ambassadors of Groundbreaking Science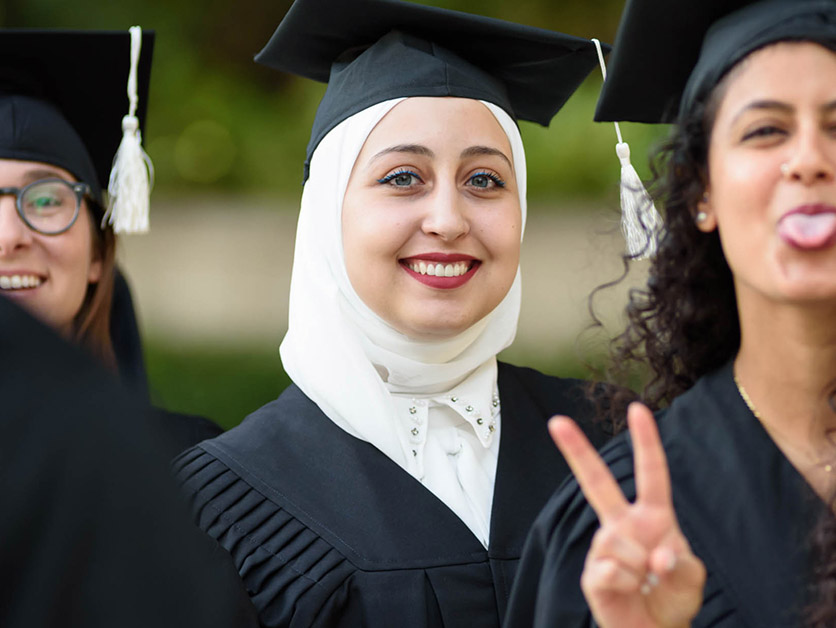 "Dear graduates, we now celebrate the 65th anniversary of the Feinberg Graduate School, an enchanting boutique university within a bubble called the Weizmann Institute. More than 2,500 MSc recipients and some 5,000 PhDs have graduated from this school, among them more than 400 founders and chief executive officers of start-up companies and more than 500 professors in academia. Today you join this highly prized brand of Weizmann Institute graduates." With these words Prof. Gilad Perez, dean of the Feinberg Graduate School, greeted the 319 Weizmann Institute of Science graduates at the 2023 ceremony for the conferment of MSc and PhD degrees that took place this week on the Weizmann campus in Rehovot. Perez referred to the graduates as "new ambassadors of our special family whose whole essence is being the beacon of uncompromised truth."
A total of 143 alumnae and 176 alumni received their degrees – 188 PhDs and 201 MSc degrees – from the Feinberg Graduate School this year. Among this year's cloak wearers and mortarboard throwers were 33 international research students – more than 10 percent of all graduates.
"Opening the door is essential but not enough"
Guest of honor at this year's ceremony, Prof. Mona Khoury-Kassabri, vice president for strategy and diversity at the Hebrew University of Jerusalem, emphasized in her address the importance of enhancing diversity among students, faculty and administration at academic institutions. She had previously served as dean of the Hebrew University's Paul Baerwald School of Social Work and Social Welfare – the first Arab woman to hold a post of dean in Israel.
Khoury-Kassabri shared with the graduates her own moving life story – from growing up in a poor, crime-ridden neighborhood in Haifa to holding the post of a university professor and vice president. But she warned against using such success stories as proof that anyone can make it if they try. "It's dangerous to shake off our responsibility as a society toward groups that live under weakened conditions and are thwarted by their own personal, socio-economic or even political circumstances. For every success story, we must stop and think about all those who didn't make it despite wishing to succeed with all their hearts and doing their very best. We must take them into account when determining institutional strategy," she said.
""For every success story, we must stop and think about all those who didn't make it despite wishing to succeed with all their hearts and doing their very best"
Concluding her speech, Khoury-Kassabri addressed an important appeal to the ceremony participants: "Opening the door is essential but it's not enough to achieve diversity, since quite a few people live in an environment that doesn't enable them to even see this door," she said. "We still have a long way to go until we realize the mission of rendering our institutions diverse and tolerant. But once we get there, it will affect not only universities and the academic community, but the entire Israeli society. Good luck to all the alumnae and alumni – mabruk!"
Weizmann Institute President Prof. Alon Chen also referred in his speech to the importance of diversity in academia. "Science knows quite a few cases in which the minority, or even individuals who went against the tide, were the ones to lead to breakthroughs that eventually improved all our lives," he said.
Prof. Maya Schuldiner, chair of Weizmann's Scientific Council, focused in her address on the personal and professional challenges overcome by the graduates: "I know from my own experience how hard it is to undertake this journey or parts of it in a foreign country – displaced from your support system and your loved ones. For you the journey was even harder, yet you made it."
Schuldiner praised the graduates for their personal courage: "I'm excited because I know that in order to stand here today, you had to do something exceptionally brave. You had to stand upright anew after failing again and again – because this is what happens when you get to the frontier of knowledge and want to march into the unknown… You discovered that the hardest part of this degree is not taking courses, learning equations or mastering laboratory techniques – it's facing our own fears. Yet despite all this, you marched ahead along the paths of science and contributed something of your own to the building of humanity's knowledge. I applaud you for that!"
"Mother, this degree is dedicated to you"
This year's traditional graduates' address was given by Dr. Adi Millman, who completed her PhD under the guidance of Prof. Rotem Sorek of the Molecular Genetics Department and will soon embark on postdoctoral research at the Massachusetts Institute of Technology in Boston. In her doctoral research she dealt with bacterial defenses against viruses and discovered dozens of immune mechanisms used by bacteria.
"This is an exciting time to be doing science," she said. "Technology is advancing by giant leaps, we've being witnessing a true revolution – mathematicians prove theorems by means of computer, sophisticated telescopes provide us with first glimpses of black holes, and artificial intelligence radically changes the rules of the game, from algorithms that solve long-standing problems in biology to language models such as chatGPT, which might or might not have helped me write these words…"
"This is an exciting time to be doing science… artificial intelligence radically changes the rules of the game, from algorithms that solve long-standing problems in biology to language models such as chatGPT, which might or might not have helped me write these words…"
Millman, who is married and a mother of two, ended her address with an emotional expression of gratitude: "Thanks to our dear families, who supported us all along and were always there for us, and to all those who inspired us to be the best we can. Speaking of inspiration, I can't help but think about my mother, who didn't live to accompany me to the finish line. Mother, this degree is dedicated to you."